Weekend Watch: Reviews from the Week 2/21
By Music Staff | 25/2/16 11:11am
Toe - Hear You (Topshelf Records)
By: Ian Evans
Technical and Emotional Rock
"Toe" is a slightly crude name for such an elegant band. On their latest LP Hear You, they compile an 11 song tracklist full of exciting and moving musical moments. The high point of the album, aside from the catchy guitar lines, are the drums. They sit loudly in the mix, with a thick kick and a snappy snare. The drummer plays his beats in such an intricate way that you can't help but stick around the whole time.
Other strengths include the smooth female vocals that appear occasionally on some tracks, as well as the emotional atmospheres created by beautiful chords and instrumentation. If you've got a sweet spot for people who know how to play their instruments really damn well, this should definitely make its way into your collection.
RIYL: American Football, Pretend, The World Is A Beautiful Place And I Am No Longer Afraid To Die
Recommended: 1,4,7,11
Self Defense Family - Superior (Run for Cover)
By: Max Gowan
Brooding, Dark Rock
Superior packs a lot of punch for a 4-song EP. The vocals on opener "In Those Dark Satanic Mills" recall mid-career Steven Malkmus delivery, and they sync up nicely with the smooth-riding instrumentation. The lyrics add to the mix, creating a somewhat demonic atmosphere throughout the whole album with lines speaking of wood stoves and a father with a drinking problem. Self Defense Family maintains this aesthetic throughout the EP, and they execute it well.
One of the bright points is the title track. Guitar hiss fades in with other ambient noises as they slowly begin to build atmosphere. The ambience reaches a threshold as a lone devilish voice lowly moans behind the instrumentation, and then it all fades out as quickly as it came. It's creepy, but affecting.
RIYL: Pavement, Swans, Protomartyr
Recommended Tracks: There are only 4, but they're all pretty dank
The Dirty Nil - Higher Power (Dine Alone)
By: Danny O'Sickey
Punk party music
Higher Power is a solid album. It would seem that The Dirty Nil set out with a goal in mind when creating this album, a goal of creating rockin' party music, and I think it's fair to say they met the goal and shook its hand. They didn't quite flash their Rolexes to assert their dominance over the goal, but they certainly didn't miss the mark either. The music on Higher Power, is punk, though The Dirty Nil will tell you otherwise. It's very similar to Japandroids past their first album, but with a little more edge. The Dirty Nil use feedback excellently, creating a primal surge of energy in the listener each time the feedback cuts through for a second. At times the album diverges a bit from the anthemic punk sound and it becomes a little more frantic, such as on "Lowlives". This more frantic sound is also a fuller sound; Motörhead and their wall-of-sound sound come to mind. "Zombie-eyed" and the cheekily-named "Wrestle Yü to Hüsker Dü" are the standouts on the album. Also not to be overlooked, though you surely couldn't if you tried, is "Fugue State". It's an ephemeral burst of anger, speed, and Henry Rollins. If the rest of the album was a little more similar to "Fugue State", I think I could get on board with the song, but in the context of the album I think it's a little too jarring. Given that, I think it has a clever name.
As for the composition of the album, The Dirty Nil do not neglect the importance of beginning and ending well; the album begins with swelling feedback and ends with a powerful rock-n-roll guitar solo. The album as a whole meshes pretty well, except for "Fugue State" of course, but it still doesn't manage to reach that mythic state in which each track is unable to be separated from the rest. Even when the feedback of the end of one leads into the feedback of the beginning of another, the tracks don't quite get there. All in all, the album is a shade above mediocre.
RIYL: Japandroids, Motörhead, Weezer
Recommended: 2,3,4, 8 (for its uniqueness)
Gibbz - Above Water (Self-Released)
By: Matt Reise
Gleeful, enjoyable, refreshingly indie pop
A recent Berklee College of Music graduate, Gibbz's first ever album Above Water is a triumph. A concise illustration of his musical mastery, Gibbz' debut is filled with synth, live guitars, brilliant singing, and even the occasional jazz trumpet. Warm, fuzzy chords and satisfying progressions glide comfortably into listeners' ears as the perfect amount of haze surrounds key moments of each song. Gibbz seems to take joy in creating rhythms out of what appear to be rhythmless things. For example, Above Water's opener "Stay for a While" is extremely creative, constructing a beat out of something as innocent and seemingly useless as a stray pingpong ball. Similarly, to intro to "Higher Than I've Ever Been" is a bunch of seemingly random staccato boops. These short chords, after a bit more percussion is added, form a firm scaffold for the song's peppy and gleeful attitude. The track's third standout, "I Really Love You", is the epitome of a Feel-Good Indie Pop Song.
Honestly, this entire record is outwardly sunny and happy. Above Water could slap a smile on the glummest chum. It's a pleasure to listen to.
RIYL: Grouplove, Cherub, Atlas Genius
Recommended: 1, 2, 10
Radiation City - Synesthetica (Tender Loving Empire)
By: Emily Langlois
Ear candy that excites and impresses
It seems this days that all indie groups have the same sound, and even though the sounds are usually awesome, it's difficult to make a unique mark with album releases. This, however, is not the case for Radiation City. Their newest release, Synesthesia, is charming, well put-together, and creatively notable.
This group, hailing from Portland and consists of 5 members (two pairs of which are couples), brings something new to the genre with a interesting mix of old and new. Each song on Synesthetica has a completely different vibe, all of which seem to be personally crafted to put you in a good mood. They also have really cool and, dare I say, delicious names that fit the personality of each of them. "Juicy", "Milky White", "Sugar Broom", and "Fancy Cherries" sound like they jumped straight out of a fairy tale.
The thing that makes them really stand out amongst similar artists in their genre is their ability to tell stories with their songs. Their lyrics present themselves with such clarity that they almost demand the attention of the listener, and all the twinkly synth sounds that are sometimes distracting become really pleasant accompaniment. Although all of Radiation City's songs are sunny and energetic, it doesn't mean that they're empty or shallow.
I could highlight almost every song in this album since they all are very different and put me in different places. They find a way to stand out against each other yet complement each other, keeping the album coherent but avoiding the sometimes inevitable blending of sound from each song to the next. "Juicy" is what I like to call the "la la" song, because every good indie-pop album has a song like it, however its vocal and guitar variation gives it depth and its medium-speed sets a bright yet carefree mood. In contrast, "Fancy Cherries" has a tropical slow dance sound that reminds me of the grown up version of "Kiss the Girl".
Overall, I would say that this album definitely deserves a listen, and then three more listens. It takes indie-pop to a more refined level, remaining accessible and entertaining for those who are already fans of the genre, and has a high production value for those who may detest pop variations for the lack of it. Synesthetica has something for everyone because everyone likes it when music makes them feel alive.
RIYL: Pure Bathing Culture, Tennis, Unknown Mortal Orchestra
Recommended: 1, 2, 6, 9
Florist - The Birds Outside Sang (Double Double Whammy)
By: Luke Palermo
Two sides of the same post-trauma bedroom rock/indie coin
The Birds Outside Sang is split up into two parts: the first half of the album was apparently worked on during a time when songwriter Emily Sprague was involved in a bicycle accident that left her able to only play keyboard with one hand, sing, and use percussion instruments as she recovered in isolation. This part is predictably more stripped back and rough-around-the-edges, With Emily's voice and lyricism being the driving force of the songs - with usually some lightly layered synths and the occasional full-band flare up. The section ends with a wistful synth loop and some dainty piano over incredibly introspective spoken word - I suppose you're left with a lot of time to think about things while recovering from an accident.
The second half was recorded full band, and it kicks off with a powerful drumbeat into a (comparatively) grandiose track. The songs seem to be a "leveled up" version of the first half, with some sleeker production and beefier sound elevating the mood from "comfy in bed" to "beginning to wake up and walk out the door".
RIYL: Eskimeaux, Frankie Cosmos, Cyberbully Mom Club
Recommended: 1, 4, 5, 6

The Foreign Resort - The American Dream EP (Moon Sound Records)
By: Krystal Chong
If hitting rock bottom could have a sound.
I couldn't be more stoked that The Foreign Resort is from Copenhagen, Denmark. Honestly, that fact alone makes me love this Danish trio's newest EP, The American Dream. The EP delves into a simpler but yet still intense version of their dark and moody sound. The trio prides in interweaving 80's new wave with post-punk in an explosive yet melodic way. From the get go, "The New Blood" is a mixture of layers upon layers of textured sound that is accompanied with haunting and ghostly vocals. What I mean by haunting and ghostly vocals is the sound of your voice when you wake up the morning after too many drinks: the sound of death.
RIYL: Interpol, A Place To Bury Strangers, The Editors
Recommended: all of them~
Jennifer O'Connor - Surface Noise (Kiam)
By: Tim Dixon
Acoustic indie rock ranging from poppy to melancholic
Surface Noise is the sixth album from Brooklyn-based singer-songwriter Jennifer O'Connor, and her first since 2011's I Want What You Want. Some of the songs are standard acoustic singer-songwriter fare like "Mountains" and "Standing for Nobody," while other songs like "Start Right Here" and "It's Gonna Get Worse" are more indie pop/rock in their sound. Impressively, most of the instruments were played by O'Connor herself, including organs, keyboards, guitars, melodica, and piano. The album also features Yo La Tengo's James McNew on bass. O'Connor's voice and guitar-playing is very pleasant, and the lyrics touch on a variety of themes including loss, hope, and modern life. I enjoyed listening to this album a lot, and fans of acoustic indie music should enjoy this album.
Fun facts: O'Connor has previously toured with an impressive assortment of acts including Wilco, Indigo Girls, Feist, Yo La Tengo, and the Mountain Goats, and will be opening for Neko Case on an upcoming tour. She has also co-written original songs for Sons of Anarchy and Orange is the New Black.
RIYL: Liz Phair, Cat Power, Elliott Smith
Recommended: 2, 4, 5, 7
Laura Carbone - Sirens (Duchess Box)
By: Jenny Bernardi
Dark Melodies to Seduce Unsuspecting Victims into Your Lair
Laura Carbone is a haunting songstress that knows her way around indie pop. Previously the frontwoman for a German band, Carbone is now carrying out her own solo project with Sirens. The album is very hit-and-miss to me. Songs with heavier rock influence, that sound more gothic and grungy, churn my butter in all the right ways. "Heavy Heavy" and "Plan of Attack" fall into this category, with dark, seductive lyrics and great use of repetition. Songs such as "Late Night Conversations" and "Favorite Disease", however, just don't do it for me. These songs are more characteristic of the indie pop genre, and though they aren't bad songs, I found them to be very generic. There was nothing particularly grabbing about them, and for an album to be great in the sea of indie pop darlings, there needs to be a differentiating factor. If the same type of energy present in "Heavy Heavy" and the like were dispersed through the rest of the album, Carbone would've easily reached the Siren Status she strived for in this recent effort.
Recommended: 3, 6
RIYL: The Dead Weather, The Mynabirds
Nothing But Thieves - Nothing But Thieves (RCA)
By: Samantha Young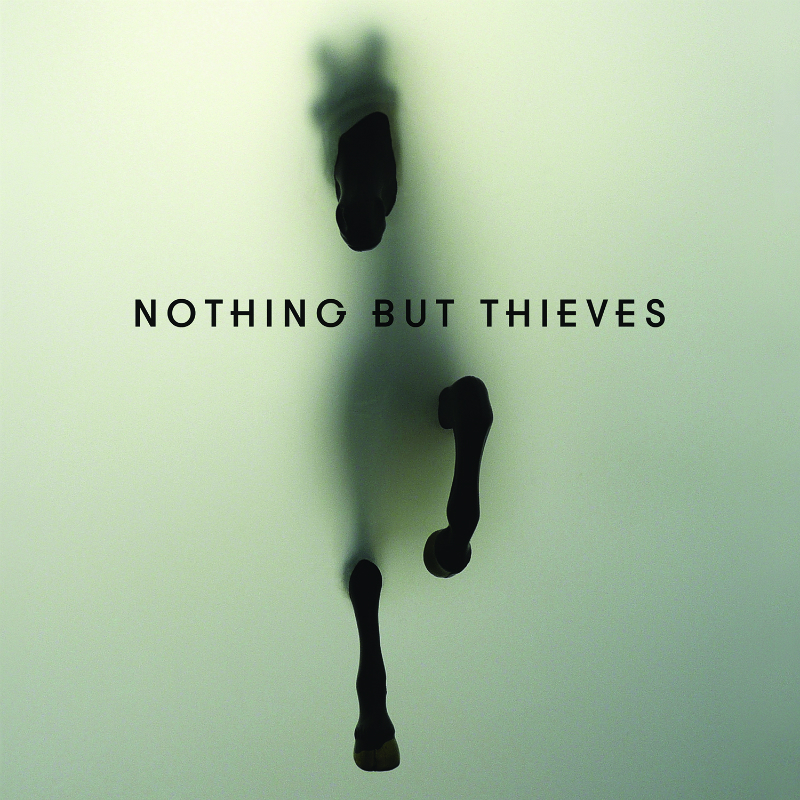 Revamped rock, a hint of 90s alt rock meets Muse
English rockers Nothing But Thieves hold nothing back when bringing unfiltered rock in an age where rock is filtered through various lenses— indie, pop punk, you name it. This 5 piece seeks to return to rock roots with an unfettered mix of anger, sexiness, and power. Singer Conor Mason's voice is Matt Bellamy's wild range and dynamics molding with Jesse Rutherford's sultry and seductive tone. With screeching guitars, punching snares, and a wailing lead singer, Nothing But Thieves is the perfect band to rock out to. Yet at the core, stripped down, these songs are just as catchy as the Top 40 earworms.
Similarly, Nothing But Thieves aren't afraid to tone it down and show their softer side on tracks such as If I Get High, Graveyard Whistling, Lover Please Stay, and Tempt You proving their musical versatility. But tracks like Drawing Pins, Itch, Painkiller, and Hanging are the classic rock anthems, undeniably sensual and irresistibly catchy. The ability for Nothing But Thieves to consistently deliver 16 fire tracks is honestly quite impressive, and the album is a must-listen.
Recommended: Muse, Arctic Monkeys, Envy on the Coast, Wolf Alice
RIYL: 1, 2, 4, 9, 12, 14, all of them!