Weekend Watch: Reviews from the Week of 10/26
By Music Staff | 30/10/15 5:00pm
Neon Indian – VEGA INTL. Night School (Mom + Pop)
By Matt Reise
Glitzy, Syrupy Electronic Dance Perfection
I have been waiting four long, tiresome years for Neon Indian's third record VEGA INTL. Night School to grace my ears. And damn, waiting made the reunion so much sweeter. The instant the distorted loops of "Hit Parade" reached me, I was already on the floor. One striking new tidbit became immediately apparent as I progressed through Neon Indian's new collection—it's a dance record.
When I listen to this record, I can hear mastermind Alan Palomo is being pulled in two distinct directions: he feels the need to hail back to his Psychic Chasms roots, which embody trippy, experimental electronic music. But at the same time, I'm sensing Palomo's need to grow off his debut effort Era Extraña and make music acceptable to a large populous (not just people tripping on a couch in their basement). To do this, he effortlessly combines both genres and creates the monstrously beautiful lovechild of trippy dance music.
The electro tracks of this album are really unique in that they have a full, gooey sound. Psychic Chasms was so treble-oriented it felt dry and buzzy. Palomo has rocketed in the other direction with his newest effort, supporting his songs with a thick and viscous foundation of sound. It has marvelous effects, giving the tracks a syrupy-sweet base which is generally coupled with glitzy synth sparkles. "Street Level" is super gloopy and heavy, like a corn syrup snail oozing its way across a lollipop. "Smut!" is the embodiment of a sleazy, drunk prowl around a dim nightclub. In a different vein, "Baby's Eyes" has laser-sharp synth coupled with a sticky bassline, putting listeners in a slow trance.
The pop tracks like "Annie", "Slumlord", and "Techno Clique" are a bit drier than other tracks of the album. They appear to follow the forward trajectory of Neon Indian's overall discography, ditching the 'trip' present in the rest of the record in favor of a stronger beat. Few songs are able to fully capture the dance scene as well as the humid electro vibe, but "Dear Skorpio Magazine" and "Bozo" do it expertly. I wish there were more of these upbeat-yet-viscous tracks to permeate the album, but alas, everything can't be gold. All in all, this record is a total hit. I'm so glad Neon Indian's hiatus ended in something marvelous.
RIYL: STRFKR, Tobacco, Animal Collective (Centipede Hz era), Panda Bear
Recommended: 2, 5, 6, 7, 8
Chris Robinette – Courtesy EP
By Max Gowan
Bedroom Pop With Walls Of Sound
Chris Robinette kicks off this EP with a quirky intro track called "Quitter", a song that isn't very indicative of how the rest of the album will sound. It features a Radiohead-esque dark guitar line with repeatedly chanted vocal lines and drum machines that build and build until they are almost too thick for the song. It's very jarring, especially when it transitions into the rest of the album which features more standard downer pop lo-fi tracks. I'll be honest, on first listen I wasn't sure how I felt about this EP. It definitely shows the influence of great lo-fi acts like Alex G and Elvis Depressedly to name a few, but it also has its own sound; one that isn't very inviting at first.
The instrumentals are really intriguing and well thought out, but something about the vocals felt out of place, almost as if John Mayer's voice were slightly muffled and put behind Teen Suicide backing tracks. However, after a few more listens I've begun to like the album much better, and I can hear a real songwriting talent in Chris Robinette. This EP isn't quite as memorable in terms of hooks and lyrical material as one might hope, but the way the instruments are arranged and structured really makes you want to keep listening. A promising EP for sure; it's definitely something worth diving into.
RIYL: Teen Suicide, Alex G, Elvis Depressedly, The Sea and Cake
Recommended: 2,4,7
City and Colour- If I Should Go Before You (Dine Alone Records)
By Emily Langlois
A three-course meal for the soul: rock and folk with a side of country
City and Colour (Dallas Green) revives soul in his new album with a deeper and more bold sound than most previous works. His gentle yet thought-provoking lyrics, however, did not change and most certainly did not disappoint. These tracks effortlessly flow from one to another, yet each hold a unique feeling within them. Opening with "Woman", a building of tension leading to an emotional instrumental break sets the tone of If I Should Go Before You. Each tune following sets a similar stage but performs its own act.
A brilliant aspect of this album's production is its stray from clinging to a single genre; rather, If I Should Go Before You brings quite the variation to the table. From rock to folk to country, City and Colour covers a spectrum of the three, bringing the best of each into the tracks and connecting them in such a way that is able to please a broad audience. Another accomplishment made is his ability to allow the listener to visualize his music: "Northern Blues" paints a picture of a lush, snow-capped evergreen forest, and "Runaway" a wide, winding road with sun rays lighting a path. The lyrics represent more than merely just words, and the instrumentals convey more than merely just sounds.
Whether a long-time fan of City and Colour, or a new listener dipping their feet into his invigorating sound, If I Should Go Before You is a heavy dose of much needed realness. Enjoy with a cup of coffee and a tug on your heartstrings.
RIYL: William Fitzsimmons, Margot & The Nuclear So and So's, Band of Skulls
Recommended: 4, 5, 11
Yacht - I Thought the Future Would Be Cooler (Downtown)
By Samantha Young
Cheesy disco club music with a modern twist used as a coping mechanism for our ultimate demise
YACHT creates the perfect soundtrack for a retro throwback themed club that wants to stay hip and relevant with I Thought The Future Would Be Cooler. The album starts off with the 8+ minute dance anthem "Miles & Miles" filled with electro drum loops, a booming bass, and aggressive, fat synths. It's followed by "White Mirror," showcasing YACHT's ability to construct complex instrumentation in a somewhat basic pop structure.The album progresses and singer Claire Evans's voice becomes almost robotic in "Ringtone", which is basically like the new wave disco noise version of "Hotline Bling", complete with all sorts of dial tones. Now that I think about it, the whole album uses lots of sound effects, from helicopter wing sounds and even meows. Yet somehow this noisy song with these cheesy sound effects turns into this catchy, angsty anthem, and all comes together in the infectious chorus "ringtone, ringtone, please look at your phone." The lyrics are filled with lots of social commentary on our current state of society, especially on the title track, which is definitely one of the highs of the album. These introspective, desperate lines about life and society are sung cheerily over dance beats, making the album funny yet slightly uncomfortable, like laughing at an inappropriate joke. "I Wanna Fuck You Till I'm Dead" is borderline disturbing, sounding like a 90s pop rock band (think Smash Mouth) singing these morbid lyrics over it. It loops the title lyrics through this campy filter, complete with bells and dings— It's honestly crazy. Overall, this album is really catchy, and has been produced very carefully and extensively. Give it a listen.
RIYL: LCD Soundsystem, New Order, St. Vincent
Recommended: 2, 4, 5
Prof - Liability (Rhymesayers Entertainment)
By John Waaben
Comical, foul-mouthed rapper who can actually sing sticks to status quo well
Prof's fourth studio album, Liability, is a solid project that does not say or do anything new, but doesn't require innovation to validate its quality either. The white underground rapper tackles the typical hip-hop tropes such as street violence and hedonistic debauchery but the record casts aside any notions of monotony through Prof's assertive singing style and personality. Starting with "Galore", the albums begins with a salacious, rollercoaster narrative of the morning after a wild night. The following songs "Ghost" and "King" focus on bravado and showcase along with most tracks on the first half of the album on Prof's bullheaded and humorous, aggressive rapping with drops of Prof's singing talent in the mix as well. These songs also feature driving, foot-stomping beats that prop up Prof with heavy bass and synths.
The second half of the album however presents itself with a crescendoing and subtle tone shift towards genuine and personal emotional experience as Prof begins to sing starting with the eighth track "I Had Sex in the 90s". Tracks such as "True Love" and "Permission" deal with Prof's maturation and are among the most personal tracks on Liability as the subject matter shifts to more somber and serious topics. Prof poses himself as both an individual who may live a sensual and reckless lifestyle but simultaneously is a vulnerable and hurt person like everyone else. The production is also stylistically cheap-sounding with 80s-esque synths establishing an ironically hokey sound on the songs he's rapping while switching to more emotionally sweeping pianos and strings on Liability's singing-focused tracks. Overall, Prof's latest project is a solid collection of typical hip-hop bangers mixed in with more more melancholic and heartfelt songs creating a diverse emotional range for a typical fan of the genre to come back at again and again.
RIYL: Yelawolf, Action Bronson, Danny Brown, Eminem
Recommended: 1, 3, 6, 15
Young Rival- Interior Light (Paper Bag)
By Ian Evans
"Croon psych" apparently.
Young Rival's sound on their newest full length, Interior Light, has been referred to as "croon psych", so I'm going with that. It makes a lot of sense. Strange genres or not, it is undoubtedly one of the best thing to come out of Canada this year. The title track has some well-written 60s pop vocals coupled with layers of funky distortion and swirling reverb and chorus. At the same time, the album also captures the contained but melodic sensibilities of the Strokes' Is This It? The Hamilton, Canada group went into the studio with Graham Walsh who has worked with Viet Cong, Alvvays, and METZ. The sounds seem very calculated if anything on Interior Light. As if they fretted for hours on the bass interlude on "Where's It All Going" or kept tweaking the echos on the synth effect thingy in "Carry The Weight". Among other things, at the base of it all, there's great songwriting here. "Living Like You Should" is a great ballad. The brilliant songwriting really provides warrant for the endless amount of toiling that took place in the studio. The songs all have a very vintage traditional feel but with more timely lyrics (meaning less with the lovey dovey and more abstract). Putting these songs under the psych lense really adds to the cohesiveness of the album. Even though "That's Chemistry" is more 60s, both lyrically and songwriting-wise, Young Rival livened it up with a cool neu-psych guitar part. Absolutely worth a listen.
RIYL: The Strokes, The Kinks, King Gizzard, Deerhunter
Recommended Tracks: 1,5,6,8 (Hard to go wrong though)
Little May - For The Company (Capitol Records)
By Madeleine Simon
Beautifully dark and honest indie album
For The Company by Little May is hauntingly beautiful and real. The lyrics alone are mesmerizing and thought provoking, but coupled with moving instrumentals and vocals, and this album hits you right in the feels. And you can't avoid it or stop it; this record will make you feel something whether you want to or not.
The song "Hide" is especially stirring. A story about cheating and lost love, "Hide" starts off with a startling high note and continues with fluid guitar riffs, background piano, and eerie vocals. This song evokes both frustration and melancholy, all wrapped up in confusion (in a good way) as you get lost in the powerful sounds.
There's something to be said for Little May's honesty and authenticity. This album is unapologetic and brings up the perfect amount of attitude and vulnerability. Little May speaks to the emotions in all of us, as we try to be honest but protective of ourselves.
RIYL: First Aid Kit, Fleet Foxes, Haim
Recommended tracks: #2, #3, #12
Coheed & Cambria- The Color Before the Sun (300)
By Jess McGowan
Raw roller coaster of emotion and guitar
Coheed and Cambria's new album brings everything to the table, pushing any and all artistic limits of music. This album is filled with the bare-naked truth of Sanchez's life as a father. Loud guitars and pounding drums open the album with "Island" and proceeded by "Eraser" as Sanchez expresses his containment and his desire for escape of his inevitable responsibilities of fatherhood. The album constantly struggles with the inner-conflict of acceptance/moving on, as shown through the weary vocals and prominent bass of "Colors," and feeling lost and struggling for freedom, as shown through the acoustic, raw honesty of "Ghost." The single "Atlas" is filled with a hardcore instrumental that knits together with the genuine passion of being a father, deeming "Atlas" as the centerpiece of the album. While the guitar cries and drum crashes set the apologetic tone of "Young Love," the hard-hitting "You Got Spirit, Kid" preaches the frustrated message of accepting the bad the things as they are. We don't feel Coheed and Cambria's true anger, confusion, and courage until the heavy yet staccato guitar screeches and spiteful, crying metaphors of "The Audience." The closing song "Peace to the Mountain," an acoustic ballad of making peace with your past, provides the closure that both the album and Sanchez need. This album's texture and variety of sound and instruments adds color to the album, but it is the soulful and heartfelt metaphors, raw and relatable themes, and the personal bravery required to tell this story creates a stunning album that takes you on a journey of whirlwind emotions. This album lays it all out, and it is worth the experience of listening to it.
RIYL: Silversun Pickups, Jimmy Eat World, Death Cab for Cutie,
Recommended: 3, 5, 6, 9, 10
Spray Paint- Dopers (Never Better)
By Danny O'Sickey

Underachieving Sonic Youth with some redemption
Better albums have been made than Dopers. It's not necessarily the worst thing out there, but it gives the listener the feeling that there was really no reason for it to be made. Spray Paint's influence is clear—they are the clergy of Sonic Youth—but they fail to really make anything of that influence. The songs on Dopers plod without even managing to convey a feeling of gloom. It is not simply the tempo in which Dopers fails to produce. Indeed, the more up-tempo "Thrash Master" fails to convey a feeling of aggression just as fully as "Bad Times" fails to convey gloom. Had Sonic Youth not already effectively produced, time and again, both expansive, down-tempo landscapes and clamorous, up-tempo attacks on many of their albums, the failure of Spray Paint to do so here might be more permissible. But to take a collection of examples of ways in which to make noise mean something, misunderstand it, and then record Dopers is not going to fly.
The tirade being concluded, Dopers is not without its promising moments. "Voice Modulator" sees Spray Paint reach for something interesting: the noise waltz. It incorporates "Voice Modulator" does little more than introduce an interesting concept, however, as Spray Paint fails to include a feeling in the song. The next track, "Signal Master", does convey some sense of urgency with the unending guitar riff. Unfortunately, none of the rest of the components of the song do much to add to the atmosphere, and from there the song falls flat.
Dopers is an excellent example of the dangerous territory bands tread when they place their roots so heavily in any one band. While it is possible that they could have been the better Sonic Youth, Dopers paints them as the immature and inferior Sonic Youth.
RIYL: Sonic Youth, Teenage Jesus and the Jerks
Recommended: 2,3
Palehound - Dry Food (Exploding in Sound)
By Jordan McCormack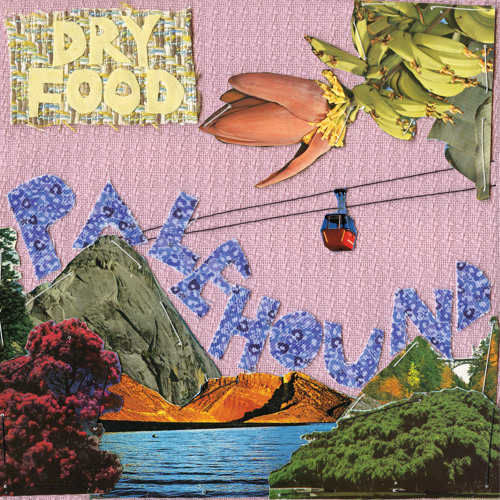 Indie rock tinged with grunge and melancholia
There are very few albums that I have an immediate response to. Whether I love it or hate it, I usually take a couple listens through to decide. With Dry Food, however, this was not the case. Upon first listen, I couldn't help myself from falling head over heels with the album. The grungier vocals, the searing guitars, the melancholic lyrics, if isolated, may sound somewhat unoriginal, but when brought together as expertly as Ellen Kempner (the 21 year old behind Palehound), we see a sound come together that is wholly her own. She ranges from more upbeat guitar shredding a la Annie Clark on "Molly" to a simpler and sadder melody on "Dixie". In a mere eight tracks, we see these extremes and everything in between explored in a manner unlike anything I've yet to hear this year. And for this reason, I can't help myself from falling in love with this debut.
RIYL: St. Vincent, Mitski, Yeah Yeah Yeahs, Lady Lamb
Recommended: 1, 4, 6